Working outside the office could include working from home, at client sites, at the homes of service users, on the train, or even on overseas trips. The type of work undertaken will determine the likely health implications, and a wide range of issues may result. For the sake of simplicity, this article focusses on the performance of office-type tasks, (including using a computer and phone), within the home or on the train.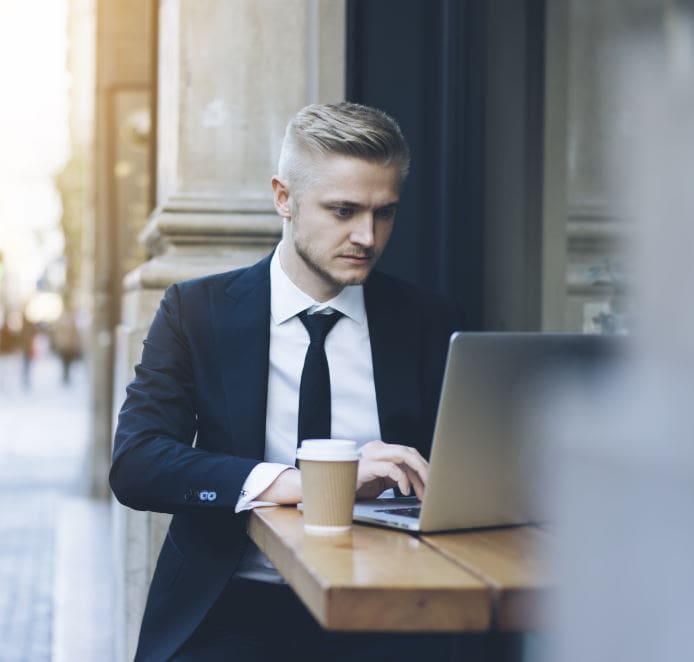 Working Outside the Office Benefits
Working from home may have clear benefits. Travel time will be saved, and ability to focus on tasks may be assisted by the presence of fewer distractions. These factors may be particularly important for workers with mental or physical disabilities, and working from home may be an appropriate adjustment to consider under the Equality Act 2010. Home-working allows a degree of flexibility, for example, to attend an appointment within working hours, or cope with a plumbing emergency, and this may reduce stress for the employee.
Modern technology and access to Wifi enables working on public transport, such as trains and buses, and keeping in contact whilst travelling.
Workstation implications for working outside the office

Most employers of office workers consider the requirement for a satisfactory working environment and for appropriate display screen equipment assessment (DSE). It is a requirement under the DSE regulations for a home-worker's workstation to be assessed, even if the employer's own equipment is not used. The guidance has specific paragraphs relating to home- working. A worker may not wish for their home to look like an office, but will still require the same level of comfort and safety as in the office. For example, the home-working may be undertaken in a spare bedroom with multiple trip hazards, or the work may involve potentially dangerous equipment or handling hazardous substances. A risk assessment is required to address all risks within the working environment. The legal responsibilities regarding home-working may vary considerably between countries. For example, the worker may carry more responsibility for their home-working environment.
Trains, particularly standard class carriages, may provide a poor working environment. They may be noisy, poorly lit, cramped, and provide many distractions. It may be very difficult to achieve satisfactory posture when using a laptop on the train. Privacy may also be poor, as phone calls may be overheard, and computer screens may be viewed by others. Internet availability and phone connections may be subject to frequent interruptions, which can be disruptive and stressful. Therefore, working in this environment should allow for more frequent breaks and lower productivity, and perhaps, any useful work achieved could be regarded as being a bonus rather than an expectation.
Drawbacks of homeworking
Homeworking can be abused. For example, the worker may try to combine work activities with watching television or providing child care. Home-workers may become isolated due to the lack of social contact and face to face support from colleagues and managers, and additional provision may need to be made to prevent this. The boundaries between work and home may become blurred, affecting work-life balance. Employers need to consider the Working Time Directive (WTD) if their employees may be working longer hours at home.
People factors
Not everybody is well suited to working from home. Characteristics more suitable for home-working are: trustworthiness, maturity, self-discipline, ability to self-motivate and good time management.
Useful reading is available on the HSE website for homeworkers.
Receive a Tailored Service from The Eventus Recruitment Group
If you are looking for a new job in a legal, HR or finance profession, please contact us today and arrange a consultation. We provide a tailored, personalised service. Contact Siobhan Courtney on 07970 252772.
If you found this post on homeworking useful, you may like to explore other blog posts by The Eventus Recruitment Group:
What is personal development planning?
Professional development planning cycle