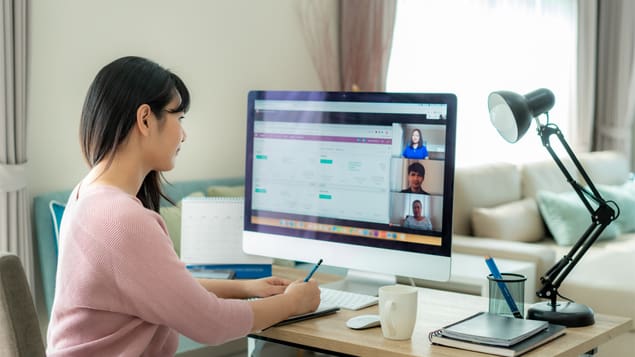 Recently my colleague Emily Davidson started a post on Linkedin about working from home and asking what were our positives? (see original post and share your thoughts here ), and it really got me thinking.
I have permanently worked from home now for almost 4 years, so this aspect of 2020 life is no different for me, I'm a pro! Personally, on balance, the positives outweigh the negatives – flexibility, not having to commute in the dark, having the dog around during the day and mostly just the headspace to actually work, rather than being interrupted by office life.
But one thing that it did get me thinking about was how the separation between the workday and home life has become less defined. In my previous role I worked in Leeds City Centre and lived at that time around 15 miles away, a commute which could take me anywhere from 30 minutes to 60 minutes, depending on how the M62 was behaving. And whilst this commute could be frustrating at times, the one thing it did give me was a defined END to the workday. I could get in my car, turn on the radio or a podcast, and just detach from the stresses of the day. It provided a very clear difference between being at work and going home.
Now due to the COVID restrictions, many more people are working from home and our homes have now become our everything; our workspaces, classrooms, gyms and places for entertainment. This means that when we've finished work, trying to switch off without a change in scenery can be difficult. Therefore, I thought it might be an idea to give my thoughts on what has helped me and which in turn may hopefully help you.
1. Have a routine
One of the most important things that you can do is build a routine and stick to it. This means waking up, starting and finishing your work and taking your lunch at the same time. If you can, try not to start work early or finish late, still maintaining your working hours. Try not to work your "commute time", do something fun or relaxing instead with that bonus time.
2. Bookend your day
Try to get into a rhythm of doing an activity before and after you finish work. This will help you to know when you're at work and when you aren't. For example, you could use your time for exercise after work and take a stroll around the block as your 'commute' home. I am lucky in that I have a Labrador who needs a long walk at either end of the day, so this is what I use and on the occasions where I can't do it, I really feel the difference.
3. Define your desk
It is important that we maintain the boundaries between our work and personal space. If you can, keep your work in an area that doesn't intrude into the rest of the house. This means when you start work you are at work and when you are finished, you can move into a different space to relax and unwind. Shut the door! If you are tight on space, try and tidy everything away at the end of the day so that you don't have visual reminders of your work or your to-do list.
4. Switch off your work phone
Try to not answer your emails outside of your designated working hours. When your working day finishes, put your work phone away and try not to check your work emails if you have them on your personal phone.
5. Enjoy your evenings
It is important to try and clear your head in the evening. Try to do something each evening that you can lose yourself in and forget about the working day. Whether it's catching up with a friend on the phone or video chat, spending the extra time cooking your favourite meal or even just zoning out in front of the TV, the most important thing is to enjoy getting lost in the moment and forget about the working day.
6. Find another purpose
Having a sense of purpose that is separate to your work can help you switch off by focusing your attentions onto other things. Where previously we may have met up with friends and family on an evening, that's not possible now, so why not look into volunteering in the evening, to help give you something to focus on outside of work? There are lots of volunteering options that you can do while still abiding by social distancing practices. For example, those that are telephone based.
We all inevitably have times when we think about work outside of our working hours, and that is okay too. Don't be hard on yourself if you are struggling to switch off – it takes time to adjust. Hopefully my tips may help.
For me, this blog is a written promise to myself to practice what I preach and whilst 2020 has been probably one of the more stressful years of my working life, I need to remember that work is not my whole life, despite what it may seem like at present.
Stay safe everyone!