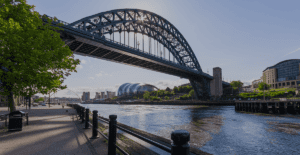 I love the North-East. I grew up in Darlington, County Durham and recruit throughout the North-East as part of my role at Eventus Legal. I get the opportunity to drive around the North East visiting clients and candidate – aren't I lucky? Well you could be too!
According to recent released by APSCo, the year – on –year trend shows 16 per cent more available vacancies in the North-East than last year. In the legal market, this figure rises to 62 per cent which is the highest figure in the whole of England. So there are jobs for you in the North-East. But why else should you live there?
1. It's cheaper!
Against a UK average house price of £243,220, the North East average is £132,999 giving you considerably more for your money. Cost of travel is less. Food is cheaper. Beer is cheaper. You get the picture…

2. Beautiful countryside
We have some of the best countryside on our doorstep including the North Yorkshire Moors, the Dales and the dramatic landscape of Northumberland. Get out there and explore!
3. Stunning beaches
Our rugged coastline is lined with some of England's best beaches and quaint seaside towns. You can travel out by boat to the Farne Islands to see the wildlife, or drive over the causeway to Lindisfarne when the tide is out. Of course, you'll have to get fish and chips too, that's the rule. And maybe an ice cream. Definitely an ice-cream.
4. Culture
There's the BALTIC Centre for Contemporary Art, the Sage, Middlesbrough Institute of Modern Art (MIMA), Beamish Museum, The National Glass Centre, and many more. You'll never struggle for a day out in the North-East, or a night out either for that matter.
5. Friendly, passionate people
It doesn't matter where you go in the North East, you're likely to find friendly people who are happy to chat or help you out if you need it. Scientifically (yes scientifically) people in the North are happier than those in the South. It obviously shows.
So what are you waiting for? Have a look at some of our vacancies or call me to talk about the merits of the North-East in more detail – I'm sure I've got the role for you.
Amy Watson
amy.watson@eventuslegal.com
0113 418 2494