In this post, we share ideas for fitting in some work exercise into your daily routine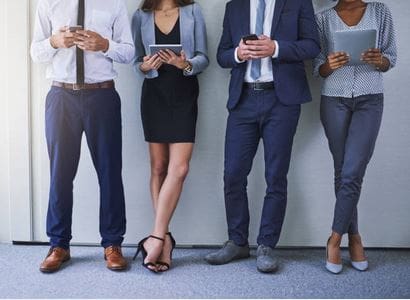 A big challenge we often face in today's modern working environments is that we can work with barely any need to be physically active. Unlike previous generations who were active as a matter of course during their work day, we now have to find the time and motivation to be active within lives busier than ever, juggling work, families and many other commitments.
For a lot of people finding the time and motivation will always be difficult, and for this reason it is critical we build more activity into everyday life, seizing opportunities to be active whenever we can. You can start today with some work exercise!
Here are some suggestions where you could make your day a more active one; and remember everything active you do is better than not doing it –no matter how small.
Lots of small changes can add up to make big differences.
Here are some tips to help you get more activity into your day:
Work Exercise: Stand up more
There are plenty of opportunities to stand more. Do you really need to sit down on the train on the way home when you've probably already spent 8 hours of the day seated? Do you really need to be sat down when you're talking on the phone?
Standing burns more calories than sitting down
Standing more is important for your posture and back care
Walk about more
It's easy to sneak extra walking into the day. Will parking at the other end of the car park impact on your busy schedule or is it just your natural tendency to save energy that's convincing you to park as near to the supermarket door as possible?
At work getting away from the desk for a couple of minutes can give your mind a break and your back a stretch.
Walk to speak to someone rather than send an email, use the toilets down stairs or set your computer to print at a printer further away from your desk.
Walking around the office will be using 3-4 times the amount of energy as sitting at the desk!
Take the stairs
We are often told taking the stairs is an easy way to get a bit more exercise and the evidence shows there are definitely health gains to be made.
Stair climbing is hard work, so build up the amount you do gradually until you can get to your fourth floor office without feeling desperately out of breath by the time you get there.
Stair climbing can burn 9 times the amount of energy compared to sitting at the desk (or taking the lift!).The downside is that it doesn't take long to complete so make sure you take every opportunity you get.
If you want to get fitter but find it difficult to do this through regular exercise activities then the examples provided here offer you with the easiest ways to do something positive that is going to make a difference.
If you found this post on work exercise useful, you may like to explore other blog posts by The Eventus Recruitment Group:
What is personal development planning?
Professional development planning cycle
Receive a Tailored Service from The Eventus Recruitment Group
If you are looking for a new job in a legal, HR or finance profession, please contact us today and arrange a consultation. We provide a tailored, personalised service. Contact Siobhan Courtney on 07970 252772.